The #5 Rated CoQ10 Product: Natural Factors Coenzyme Q10
Natural Factors Coenzyme Q10 - #5
CoQ10 Product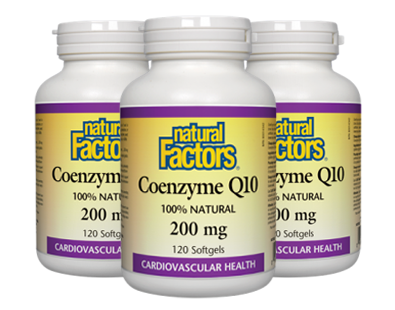 Supplement Facts
Servings Size: 1 Softgel
Servings Per Container: 60
Amount Per Serving
%DV
Coenzyme Q10 (Ubiquinone)
200mg
† Daily Value (DV) not established
Other Ingredients: Rice Bran Oil, Softgel (Gelatin, Glycerin, Purified Water, Carob), Vitamin E.
This review takes a look at Natural Factors Coenzyme Q10, a product that aims to boost your heart and brain health. The manufacturer provides a variety of products using top-quality ingredients.
EDITOR'S RATING
27 User Reviews
Natural Factors has designed a natural daily supplement of Coenzyme Q10 to aid with energy production, heart health and preventing free radical cell damage. This product is manufactured in the North of America on a certified organic farm that uses high-quality topsoil and GMO-free seeds. Today we are conducting a review of Natural Factors Coenzyme Q10 which will look at the facts and guarantee of this product.
Ingredients
The main active ingredient in this product is Coenzyme Q10 Ubiquinone (microorganism) which ranges from 30 mg to 400 mg depending on the strength you purchase. Coenzyme Q10 is found in every cell of the body and is essential for producing energy and protecting the cells from free radical damage. As we get older our bodies produce less of this enzyme so it is essential to replenish Coenzyme Q10 levels with diet and supplements.
Dosage
Depending on the mg strength of each product, the manufacturer recommends taking 1 to 2 capsules a day. This product is presented in easy to swallow softgel capsules which are made from gelatin.
Possible Side Effects
The manufacturer has failed to mention any side effects of the product so we had to conduct our own research. We found that taking more than 300 mg of Coenzyme Q10 may cause rashes, nausea, abdominal pain, dizziness, sensitivity to light, irritability, headache, heartburn, and fatigue. You should consult your doctor first if you are trying to conceive or you are pregnant or breastfeeding. This product is not suitable for children.
Price
This product can be purchased directly online from verified retailers. Each bottle consists of 60 to 120 capsules and ranges from $11.00 to $48.00 depending on the strength and unit quantity. Consumers will have to perform a price check to see which is the most affordable option for the mg strength you choose.
Guarantee
We were unable to find any information about a guarantee for this product. There are very few reviews from end users about this product which is not enough for us to determine if consumers who were unsatisfied managed to get a refund from the manufacturer or third-party retailers.
Our Natural Factors Coenzyme Q10 Review – Conclusion
While this product comes in a variety of strengths and does not contain any allergens, it may be confusing to some who do not know what amount of Coenzyme Q10 they should be taking on a daily basis. Those who may choose the highest potency of Coenzyme Q10 may be unaware of the side effects because they have not been mentioned on the packaging or website. There were only a few testimonials present for this product and we are unable to use the insufficient data to determine if this product is in fact effective. The lack of guarantee is also a concern and doesn't give us much confidence in this formula. Based on our findings and the research it may be in your best interest to seek alternative solutions that offer a risk-free purchase that is backed by social proof.
Click here to learn about our Top CoQ10 Products.
Visit Natural Factors Coenzyme Q10 Site
John Parker
reviewed on and gave it a rating of
3
.