The #2 Rated CoQ10 Product: NatureMade CoQ10
NatureMade CoQ10 - #2
CoQ10 Product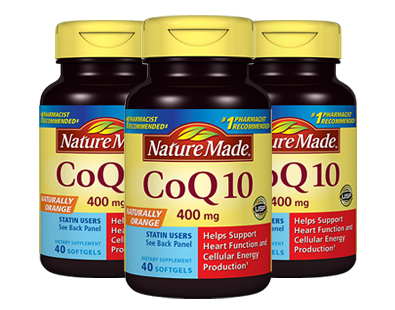 Supplement Facts
Servings Size: 1 Softgel
Servings Per Container: 40
Amount Per Serving
%DV
Coenzyme Q10 (Ubidecarenone)
400mg
† Daily Value (DV) not established
Other Ingredients: Soybean Oil, Gelatin, Glycerin, Water, Soy Lecithin
Nature Made CoQ10 claims to be a quality CoQ10 supplement to support heart health and the production of cellular energy. Nature Made CoQ10 does not contain any artificial flavors or preservatives.
EDITOR'S RATING
38 User Reviews
Introduction
Nature Made CoQ10 is an all natural product which is made in the USA that helps to prevent free radical cell damage, promote a healthy heart and increase cellular energy production by replenishing your Coenzyme Q10 levels. This product may also help consumers who are using cholesterol-lowering statin drugs which are known to reduce CoQ10 levels in the body. In this review of Nature Made CoQ10, we look at factors such as the ingredients, dose, price and guarantee to help you make an informed decision.
Ingredients
The active ingredient is 400 mg of Coenzyme Q10 (Ubidecarenone) which is naturally produced by fermentation. Coenzyme Q10 is found in every cell of the body and is essential for energy production and protecting cells from damage caused by aging. As we get older, our bodies produce less of this enzyme so it is important to get a sufficient intake of Coenzyme Q10 daily.
Dosage
Nature Made CoQ10 is contained within softgel capsules that are about the size of a penny. The recommended dosage is 1 capsule daily and should be taken with meals and water before and during ingestion. The capsules are naturally orange in color and do not have any additional colorants.
Possible Side Effects
While there are no side effects recorded for this product, research shows that people taking doses higher than 300 mg may suffer from some side effects such as rashes, nausea, abdominal pain, dizziness, sensitivity to light, irritability, headache, heartburn, and fatigue. This product should be used with caution if you are taking additional medications for blood pressure and or blood thinning. This product may cause an allergic reaction as it contains soy.
Price
Nature Made CoQ10 can be purchased from various third-party retailers online. The product cost ranges from $30.49 to $52.99 for a bottle of 40 capsules. There are no bulk purchase discounts available and consumers would need to do a price check to see which store offers the most affordable price.
Guarantee
Nature Made offers a 100-day money back guarantee. The original bottle, purchase order and unused contents must be sent back to the manufacturer before the 100 days is up in order to qualify for the refund.
Our Nature Made CoQ10 Review – Conclusion
Nature Made CoQ10 offers a few promising aspects such as the sufficient money back guarantee and the natural production of CoQ10 which is the key ingredient. With that being said, we do have a few concerns worth noting. Our first concern is that this product contains allergens such as soy which may not be suitable for some individuals. The higher dosage of CoQ10 may also cause some adverse side effects to some individuals. The product is also not very cost effective especially since there are no bulk purchase discounts available which may land up costing consumers more than what they budgeted for. While this product does have some positive factors, we do advise consumers to look at alternative products that are affordable, contain no allergens and offer a lower dosage that does not cause side effects.
Click here to learn about our Top CoQ10 Products.
John Parker
reviewed on and gave it a rating of
3
.