The #3 Rated CoQ10 Product: Piping Rock CoQ10
Piping Rock CoQ10 - #3
CoQ10 Product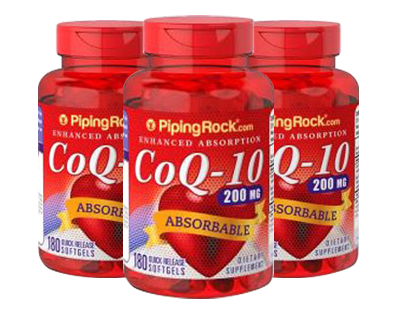 Supplement Facts
Servings Size: 1 Softgel
Servings Per Container: 180
Amount Per Serving
%DV
Coenzyme Q10 (Ubiquinone)
200mg
Black Pepper Extract
200mcg
† Daily Value (DV) not established
Other Ingredients: Rice Bran Oil, Gelatin, Vegetable Glycerin, Soy Lecithin, Annato Extract (Natural Color), Titanium Dioxide (Natural Color)
This is a review of Piping Rock CoQ10 which aims to provide you with a CoQ10 product that is speedily absorbed by the body. It offers many benefits including regulating blood pressure levels and improving energy.
EDITOR'S RATING
28 User Reviews
Introduction
Piping Rock has manufactured health supplements for 40 years and has claimed to take the careful steps in designing affordable products to benefit your health. Today we are conducting a review on one of their products called Piping Rock CoQ10. This product is said to have the right ingredients to ensure rapid absorption which aids in balancing blood pressure levels, increasing energy production and promoting overall cardiovascular health.
Ingredients
Coenzyme Q10 (ubiquinone) – 200 mg

Black Pepper Extract (Piper nigrum) (standardized to contain 95% Piperine) – 200 mcg
Other Ingredients:
Rice Bran Oil

Gelatin

Vegetable Glycerin

Soy Lecithin

Annatto Extract (Natural Color)

Titanium Dioxide (Natural Color)
Dosage
Piping Rock CoQ10 is contained within a quick release softgel capsule that is made from gelatin. The manufacturer recommends taking one capsule twice a day with meals. This means that the daily intake of CoQ10 is 400 mg.
Possible Side Effects
While the manufacturer has not mentioned any side effects, research shows that taking doses of CoQ10 that are higher than 300 mg may cause side effects such as rashes, nausea, abdominal pain, dizziness, sensitivity to light, irritability, headache, heartburn, and fatigue. This product may cause some allergic reaction as this product contains soy. Women who are pregnant or breastfeeding should consult a doctor before using this product.
Price
A single bottle consists of 180 capsules and retails for $35.99 online, however, there is a discounted price on the website of $25.19. At the time of this review, the product is currently out of stock on the manufacturer's website. Third party sites do not sell the 200 mg of CoQ10 option but instead offer the 50 mg of CoQ10 instead.
Guarantee
Piping Rock offers a 1-year guarantee. This policy applies to bottles that have been opened and used. The product needs to be shipped back to the manufacturer with a short explanation of why you are not satisfied. There are not enough reviews on reputable sites about this product to determine if consumers have been granted refunds at all.
Our Piping Rock CoQ10 Review – Conclusion
Piping Rock seems to be a good product when it comes to offering a sufficient refund policy and containing natural ingredients, however, we do have a few comments and concerns about the product. This product contains allergies such as soy and is contained within a gelatin capsule which means it is not suitable for vegetarians or anyone who suffers from these allergies. The second concern is that the dosage is very high and because of this the product may cause some adverse side effects. We only found a handful of testimonials from reputable sources which leads us to believe that this product is not very popular. It is also disappointing to find that this product is out of stock on the manufacturer's website and that this specific dose of 200 mg cannot be purchased from any reputable third-party retailers. Based on these findings, it may be in your best interest to seek alternative options of Coenzyme Q10 supplements.
Click here to learn about our Top CoQ10 Products.
John Parker
reviewed on and gave it a rating of
3
.