The #4 Rated CoQ10 Product: Source Naturals Coenzyme Q10
Source Naturals Coenzyme Q10 - #4
CoQ10 Product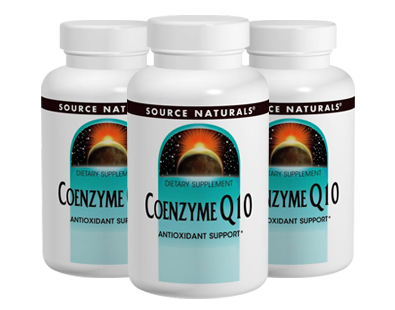 Supplement Facts
Servings Size: 1 Veggie Capsules
Servings Per Container: 60
Amount Per Serving
%DV
Coenzyme Q10
200mg
† Daily Value (DV) not established
Other Ingredients: Maltodextrin, Cellulose (Capsule), Colloidal Silicon Dioxide, Magnesium Stearate.
This is a review of Source Naturals Coenzyme Q10, a quality product designed to boost your heart health and provide your body with much-needed antioxidants.
EDITOR'S RATING
20 User Reviews
Introduction
Source Naturals has formulated a natural supplement that is designed to provide antioxidant support for the liver, brain, heart and immune system. The manufacturers claim to use the highest potency of Coenzyme Q10 for nutrition and protection. In this review of Source Naturals Coenzyme Q10, we are taking a closer look at the ingredients, price and guarantee to see if this product lives up to its claims.
Ingredients
The main ingredient in this product is Coenzyme Q10 (ubiquinone) which ranges from 60 mg to 400 mg depending on which variation of capsule you choose. For example, veggie capsules, lozenges, and softgels. Coenzyme Q10 is crucial for the production of energy within cells and provides the body with nutrients and antioxidants which are essential for heart and brain health.
Dosage
The dosage of this product varies from 1 to 3 capsules daily depending on the mg strength you choose. Source Naturals Coenzyme Q10 should always be taken with meals. This product is available in capsules, softgels, vegetarian capsules, lozenges, and vegiGels.
Possible Side Effects
The manufacturer has not mentioned any side effects on the packaging but research shows that taking doses of CoQ10 that are higher than 300 mg may cause side effects such as rashes, nausea, abdominal pain, dizziness, sensitivity to light, irritability, headache, heartburn, and fatigue. Some may experience allergies as the softgel and vegiGel variations contain soy. Women who are pregnant or breastfeeding should consult a doctor first before using this product.
Price
A bottle of Source Naturals Coenzyme Q10 contains 30 to 120 units and is available in 30 to 400 mg strength. The pricing ranges from $6.98 to $77.98 depending on the units and strength. This product can be purchased online from third-party retailers.
Guarantee
The manufacturer does not offer any money back guarantee on products that have been purchased. There are not enough testimonials present on reputable sites to determine if any consumer has successfully received a refund from the manufacturer.
Our Source Naturals Coenzyme Q10 Review – Conclusion
At first glance, the manufacturer has provided clear information on its user-friendly website and this product seems to contain the right ingredients to effectively support your heart, brain and immune health, however, we do have some concerns. The product is available in so many varieties and strengths, consumers may be confused as to which is the proper strength they should be taking. Consumers would more than likely choose the highest strength of 400 mg which comes with some potentially adverse side effects that they may be unaware of as there is no mention of them on the website or packaging. There is very little consumer feedback on this product which also leads us to believe that this product is not very well known. The lack of guarantee is also a cause for concern as consumers are not given the opportunity to try these products without any risk of losing money. Our conclusion is that we recommend looking at alternative products that are backed by a guarantee and only offer one variation of a product that contains the effective dose of Coenzyme Q10.
Click here to learn about our Top CoQ10 Products.
Visit Source Naturals Coenzyme Q10 Site
John Parker
reviewed on and gave it a rating of
4
.